person Penulis:

Dimas Maryanto

PT. Tabeldata Informatika
account_balance_wallet Donasi via:
lock_open Join Premium Members:
Daftar Materi

1. Pengenalan Kubernetes

9

2. Getting started with minikube

11

3. Pods and Containers

13

Materi: belum tersedia...

6. Store data using Volumes

Materi: belum tersedia...

Materi: belum tersedia...

Materi: belum tersedia...

9. Kubernetes Package manager

Materi: belum tersedia...

10. Kubernetes cluster for Production grade

Materi: belum tersedia...

11. Service mesh with istio

Materi: belum tersedia...

12. Kubernetes on Cloud provider

Materi: belum tersedia...
Overview learning environment with Minikube
Hai semuanya, di materi kali ini kita akan membahas tentang Learning environment menggunakan Minikube. Diataranya
What is minikube?
Pre-requisite install minikube
Ok langung aja kita bahas materi yang pertama yaitu
What is minikube?
Yess i know, install kubernetes cluster is hard. but with minikube quickly sets up a local Kubernetes cluster on macOS, Linux, and Windows for learning environtment. We recommend using minikube to helping application developers and new Kubernetes users learning kubernetes technology.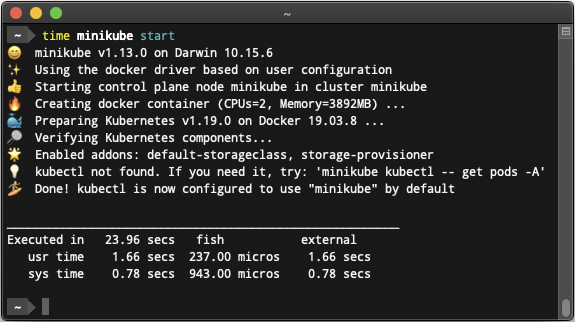 Beberapa feature yang di tawarkan menggunakan minikube diantaranya:
Supports the latest Kubernetes release (+6 previous minor versions)
Cross-platform (Linux, macOS, Windows)
Deploy as a VM, a container, or on bare-metal
Multiple container runtimes (CRI-O, containerd, docker)
Direct API endpoint for blazing fast image load and build
Advanced features such as LoadBalancer, filesystem mounts, and FeatureGates
Addons for easily installed Kubernetes applications
Supports common CI environments
Pre-requisite install minikube
Ada beberapa kebutuhan yang perlu kita penuhin untuk menggunakan Minikube diantaranya:
2 CPUs or more
2GB of free memory
20GB of free disk space
Internet connection
Container or virtual machine manager, such as: Docker, Hyperkit, Hyper-V, KVM, Parallels, Podman, VirtualBox, or VMware Fusion/Workstation
Yuk simak juga videonya,
Dan jika temen-temen belajar hal baru kali ini jangan lupa buat Like, Subcribe, dan Share ke temen kalian. Terimakasih!!!